ABOUT US
As a strategy-orientated consulting and design agency, we focus on corporate and financial communication. Within the framework of our integrated consulting services, we serve as a reliable and competent partner and offer a one-stop shop for customised communication and design solutions – print and online. 

Our Corporate Culture
Our team cultivates a culture of collaboration. This encourages friendly co-operation as well as teamwork, and acknowledges our focus on performance and initiative. In working together, we value and trust one another.
Our Motivation
We are not content with doing just enough. We are committed to finding the best solution and delivering the highest quality. We strive for advancement and continuous improvement – which includes staying up to date with the latest technology and nurturing, training and developing our employees.
DR PETRA NIX
Owner and Managing Partner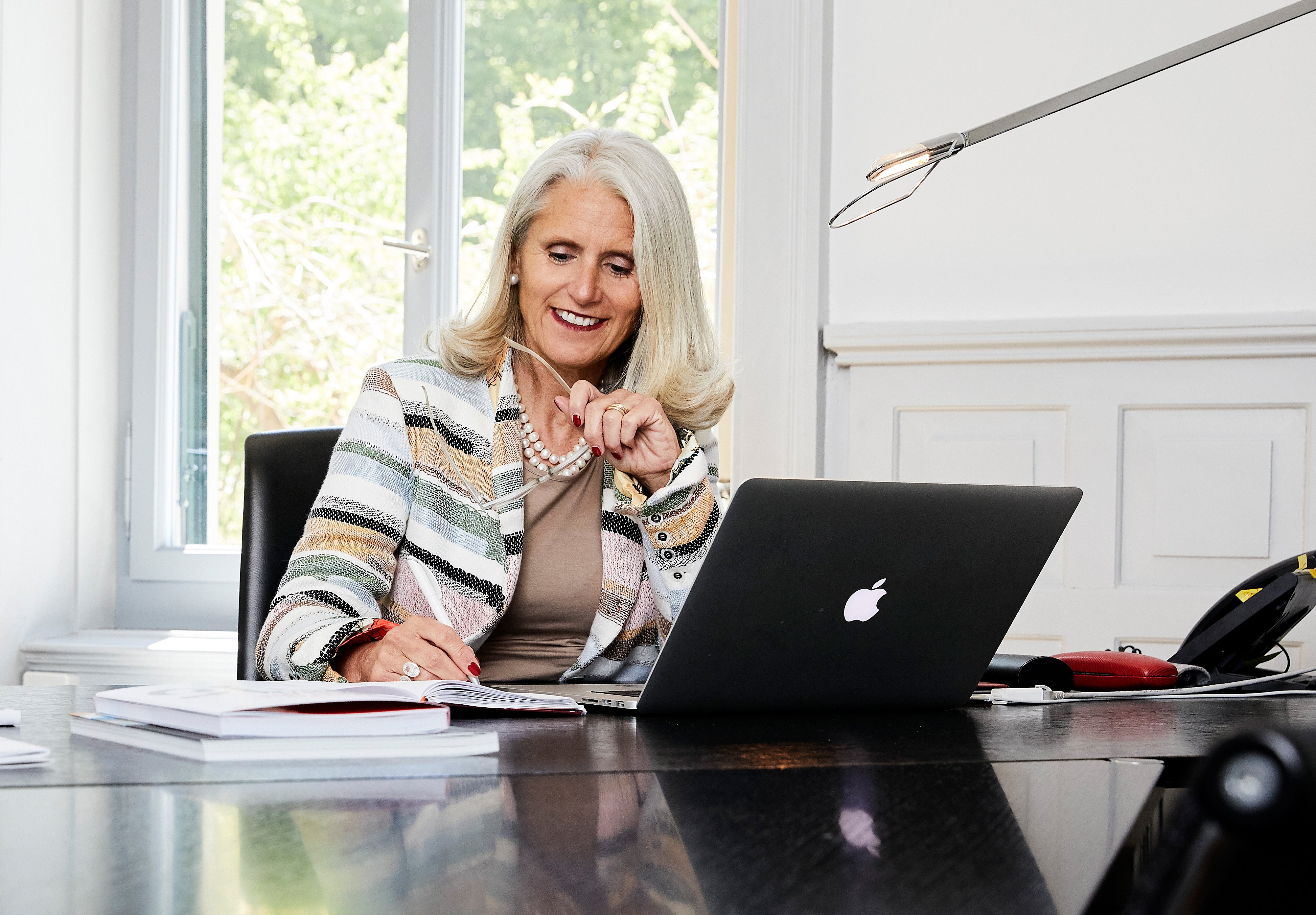 Dr Petra Nix served as Member of the Management Board of Kirchhoff Consult AG, Hamburg, from 2001 to 2010; most recently, she additionally served as Deputy CEO and Managing Director of the Swiss subsidiary. Prior to joining Kirchhoff Consult AG, she was responsible for leading the investor relations and financial communication divisions of Wella AG and VIAG (now known as E.ON AG) for seven years. She also spent several years working for the Julius Baer private banking group, Bank Vontobel and LGT in Frankfurt and Zurich.
Dr Nix studied business administration, holds an MBA from the University of Rochester (USA/Switzerland) and did her doctorate at the University of Surrey (UK). She has taken post-graduate courses at the London Business School and at IMD in Lausanne. She also completed the intensive corporate governance programme at the University of
St Gallen in August 2008.

Since 2009 she has been a lecturer of financial communication at the University of Applied Sciences of Northwestern Switzerland (FHNW) in Olten. She also lectures at MAZ – the Swiss school of journalism. Dr Nix has published numerous articles in professional journals.
Art Director/Graphic Designer
60–80%
Tasks
Conception and composition off Print- and Online-Media, primarily Annual- and Sustainability Reports
Artistic responsibility for customer projects
Creation of final drawings
Production preparation and monitoring
Requirements
Apprenticeship/study as e.g. graphic and communication designer, typographer, polygraph or media designer
Profound job experience (ca. 5 to 10 years) in Editorial-Design with a focus on annual and sustainability reports
Keen sense for sophisticated microtypography
InDesign: including tabular composition
Illustrator: preparation of (information) graphics
Photoshop: image editing
Editing- and Content-Management systems
Very good German skills
Very good English skills
Autonomous, responsible and precise working manner
Would be a plus
Production knowledge
PowerPoint skills
Web-Design knowledge
Basic knowledge in HTML 5
French skills
You offer a highly motivated, active, creative as well as technically skilled personality. You are a team player, communicative, open-minded, resilient and precise in your work, even under pressure.

Are you ready for this new challenge? We're looking forward to receiving your application including your salary suggestion. Please send your complete application, which matches this profile, by e-mail to: petra.nix@PETRANIX.com
Internship: Corporate and Financial Communications (m/f)
6 months
We are looking from October 2018 or by arrangement for a corporate and financial communications intern for a position at our Zurich office for six month.
You will assist us in the development and execution of challenging publication projects (e.g. annual reports) and other communication projects. The scope of your activities will include: research, coordinating with internal staff and external service providers, reviewing corrections, editing, preparing presentations, as well as providing support and collaboration on client projects.
We expect you to be passionate about excellent communications, possess analytical and conceptual thinking, have a creative streak, have a good working knowledge of German and English and understand how to work with conventional Office programs.
We offer multifaceted and exciting projects in our team. If you are a hard worker, resourceful, flexible, trustworthy and able to work independently, we would like to hear from you.
Please send your complete application documents by e-mail to: petra.nix@PETRANIX.com
Project member: Financial and Corporate Communications (m/f)                                                                                   50-80%
In this varied and challenging role as a hub between management, consulting, project management and graphics, you will work with great personal responsibility.

Main responsibilities
Support of consultants in project management activities
Collaboration in the conception and realisation of annual and sustainability reports
Creation and editing of texts in German, English and French
Performing corrections
Collaboration in the preparation of company presentations
Performing research and analysis work
Organization and implementation of events   
Taking over internal and administrative tasks, e.g. website maintenance, database maintenance, invitation management
We are expecting
Specialist training, e.g. commercial apprenticeship, studies in business and communication and knowledge in business management contexts
Fluent in German and English (written and spoken), knowledge of French is an advantage
Ability to analyse and present complex interrelationships
Writing and editing skills in German and English
Experience in project management as well as CRM and CMS programs
Reliability, care, precision and ability to work persistently and concentrated in detail with text and numbers
Good knowledge of office programs, knowledge of graphic programs such as Illustrator and InDesign are an advantage

We offer a varied and exciting job in a small and dynamic team. Practical work experience in an agency, consultancy or company is an advantage. However, we also give qualified graduates of a course of study with relevant internships a chance. Are you a resilient, independent, flexible and trustworthy personality with customer-oriented thinking and acting, who keeps a cool head even in hectic situations? Then we look forward to getting to know you.
Please send your complete application documents - which fit this profile - with details of your salary expectations by e-mail directly to Dr. Petra Nix: petra.nix@PETRANIX.com