PUBLICATIONS
We share our many years of knowledge with others through a variety of publications. In addition to our own Communication Specials, we regularly write articles for national and international trade journals and publish practical studies.
FURTHER PUBLICATIONS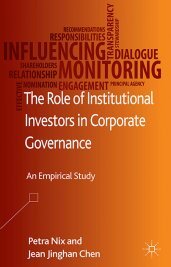 The Role of Institutional Investors in Corporate Governance (2013)
Corporate governance has gained significantly in importance over the last two decades. The shareholder base of listed companies has become more international. As a result, the influence of independent institutional investors has increased. This study examines the situation of listed companies in Germany.  
Review
"This is a timely, in-depth study of an increasingly important topic for German companies. Too often, the nature and interest of institutional investors is not properly understood, which raises concerns about their role in the governance of companies. The findings presented in this valuable contribution demonstrate that more informed and constructive dialogue between long-term-oriented investors and management and supervisory board members is in the interest of all corporate stakeholders."
(Dr Hans Hirt, Executive Director, Hermes Equity Ownership Services Limited)
The book can be ordered here. 
Articles
Download as PDF: