New PETRANIX website goes online!
A few days ago our new corporate website went online. You will continue to find us under www.PETRANIX.com.
A fresh, clear design with a user-friendly structure awaits you. Whether you use a computer or mobile device, you can access information about our services, projects, news and publications such as our Communication Specials. You can now also follow us on LinkedIn.
Starting in July our consulting team will be strengthened with the addition of Susanne Erdt. We are pleased to welcome such an experienced colleague and introduce her in this newsletter. What's more, we will inform you about a recently published SIX Swiss Exchange regulation concerning sustainability reporting. Last but not least, you will find information about our current publications as well as the continuation of our Power Lunches in 2017.
Enjoy surfing our new website!
We wish you a great summer.
With kind regards from

Dr Petra Nix & Team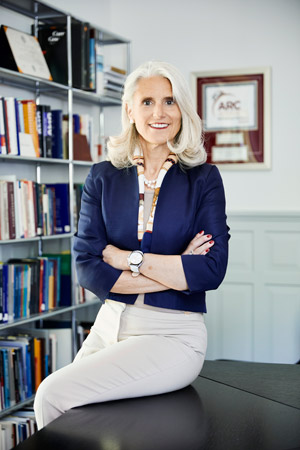 PETRANIX strengthens consultancy with Susanne Erdt
---
As of 1 July 2017, Susanne Erdt (43) is joining our team at PETRANIX AG consulting and design agency. As a senior consultant, she will take over the expansion of our consulting services in the fields of corporate reporting, investor relations, governance and remuneration. 

Susanne Erdt brings many years of international experience as well as a broad educational background. After completing her studies in economics at the University of Augsburg, she started her professional career working for Deloitte in Washington, New York and Zurich. She spent more than 10 years with the company in auditing and consulting as an expert in IFRS and US GAAP. She then switched to SIX Exchange Regulation as a Senior Financial Reporting Specialist. There she was responsible for reviewing the financial statements of listed issuers as well as proactive communication with analysts, issuers and associations regarding current and forward-looking topics of sustainability reporting and integrated reporting.

Over her career, she has attained further professional certifications and training, such as the CAS Corporate Communications at HWZ Zurich, the Investor Relations Certificate from New York University and Certified Public Accountant (CPA).
In September 2014 she became Director of Investor Relations at UBS Group AG in Zurich. Some of her wide-ranging responsibilities included supporting the preparation of annual reports, quarterly announcements and conference presentations, liaising with investors and analysts, and determining the analyst consensus estimate. She was also in charge of financial and sustainability reporting.

"We are specifically aiming to expand our consulting services in investor relations, governance and sustainability. We already work with many listed companies in developing and producing their external reports and all related activities. Our approach is in line with the current trend of providing competent advice in fields such as strategic communication, governance and remuneration. We are very pleased that such an experienced expert as Susanne Erdt has joined us. We can thus continue to offer all services related to corporate and financial communication from one firm: from analysis and research to advisory services, and with the efficient project management that results in successfully completed projects," said Dr Petra Nix, Owner and Managing Partner.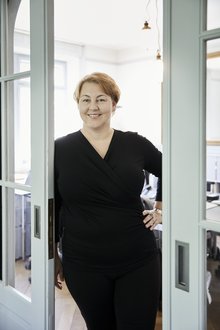 New SIX Swiss Exchange Regulations for Sustainability Reporting
---
In June 2017, Art. 9 on Sustainability Reporting has been amended by the 'Directive on Information relating to Corporate Governance' of the SIX Exchange Regulation. In the framework of an opting-in procedure, companies now have the option of announcing a sustainability report to the SIX. If a company decides to do so, this information will be published on the SIX Swiss Exchange website. 
Opting in creates a new reporting obligation, which led to a partial revision of the 'Directive on Regular Reporting Obligations for Issuers of Equity Securities, Bonds, Conversion Rights, Derivatives and Collective Investment Schemes.' A company thus commits itself to issuing its sustainability report according to internationally recognised standards. It must be published on the corporate website within eight months of the financial year reporting date and remain accessible for at least five years. The standards on the list of those accepted by the SIX will be periodically adjusted and currently include the following: GRI, SASB, UNGC, EPRA (for real estate companies only). A company may still choose not to opt in and not to publish any sustainability report, or to publish a sustainability report in some other form. The amendments to the Corporate Governance and Regular Reporting Obligations Directives will enter into force on 1 July 2017.
As one of the leading financial and corporate communications providers, we are fully familiar with international standards of sustainability reporting. We would be happy to support you with your sustainability publication.

Communication Special on the Equity Story
---
As announced in our last newsletter, we have dedicated one of our Communication Specials to how to 'Win investors with a convincing Equity Story' based on our workshop on the same topic at the 2016 Investor Relations Conference of the SIX in Zurich. This is an especially important topic for listed companies and those in the process of planning a listing. Our 12-page publication covers the following subjects: basics of investor relations including goals and tasks, elements of a convincing equity story, proactive investor targeting and different investor types.
This publication is available in English upon request. If you wish to receive a copy, please contact mail@petranix.com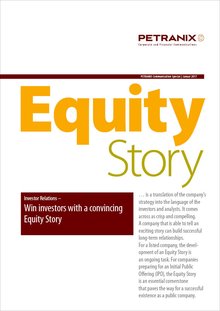 Corporate Governance/Investor Relations Study
---
These days it's a must for companies to present themselves online in an informative and transparent manner. How should a company present itself? What information should be communicated externally? How user-friendly is the online presence? How could new investors be gained?

In our latest study, we analyse the corporate websites of the 50 biggest Swiss listed companies and look at investor relations, corporate governance and usability. The results will be presented at an event in autumn 2017 and will be published in a Communication Special. Further information will follow!
Let us keep you up to date. Write to us at mail@petranix.com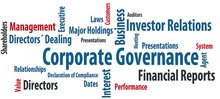 Power Lunches 2017
---
In 2017 we will also be continuing our Power Lunches series. We will offer important insights into corporate and financial communication in a concise format. You will learn more about current trends and international best practice. Join us to expand and refresh your know-how, get the latest information, be inspired and take away new ideas for your day-to-day work. Soon you will receive your personal invitation – be sure to reserve one of our very limited places.

We look forward to seeing you!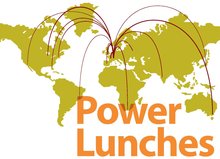 ---
Suggestions, praise and criticism: Tell us your opinion about the newsletter. We accept praise and constructive criticism as opportunities to accommodate your needs. Write and let us know what you liked and what you think is missing: mail@PETRANIX.com
© 2022. PETRANIX AG is responsible for the content. Publication, reproductions and citations permitted only if you reference the source. Linking to the home page of PETRANIX AG is expressly permitted.

PETRANIX AG –
Your specialists in corporate and financial communications.